Have you ever wanted to save an image with important information to your Word program yet lacked the ambition to type it out in its entirety? This is your last destination! Free OCR to Word enables you to OCR to Word (from image to text) with high speed and accuracy.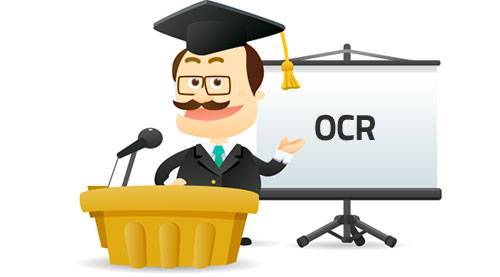 ---
How to OCR to Word with Our Free OCR to Word Converter
Step 1. Load & Adjust Image
Launch Free OCR to Word and click "Open…" to select the image file containing text (The program supports image file formats like PNG, PSD, ICO, JPG, JPEG, TIFF, etc.) and it will display in the image window. Click "Fit Image", "Fit Width", "Enlarge" and "Reduce" to adjust the image to the right size. If needed, click "Rotate ACW" or "Rotate CW" to correct it to the up-right position. Drag your mouse to select the part of the image which contains the text you want to extract. If you want to extract all text, just zoom in as much as possible.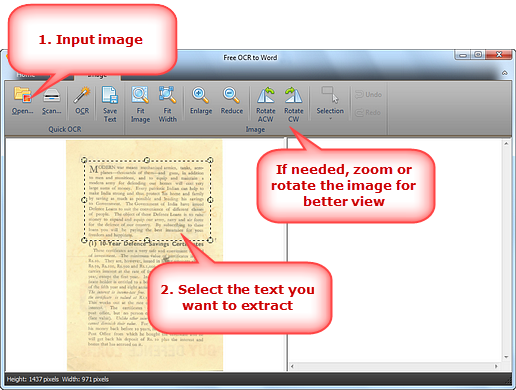 Step 2. Extract the Text
Click "OCR" to extract the text from the selection. The extracted text will display in the text window in several seconds. Click the text window and you can find some documents tools on the top. "Clear Text Window" is to delete all of the text and there is "Remove Line Breaks" button for easier editing. You can also click "Copy all Texts to Clipboard" to copy text in order to place it into the application of your choice.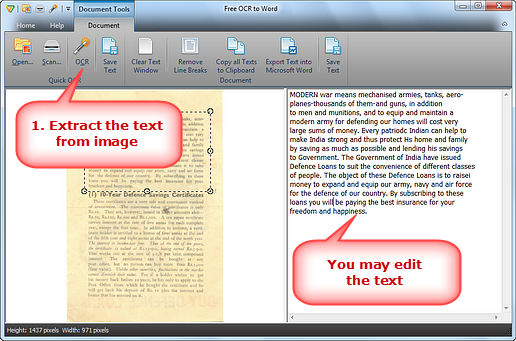 Step 3. Output to Word
Click "Export Text into Microsoft Word" to output the extracted text in Word, then you can save it as Word document. (To save the extracted text as *.txt, click "Save Text".)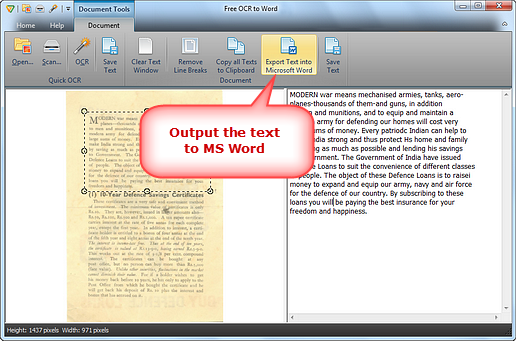 ---
How to OCR to Word Differently?
Use Free Online OCR
Free Online OCR is an online service which allows converting scanned documents into editable texts. It supports multiple input file formats like JPEG, TIFF, GIF and PNG as well as output formats including RTF, PDF, DOC and TXT. Users don't need to install any application on their computers for the conversion. It can rotate PDF pages and keep the layout and formatting of converted documents as original as possible. However, the drawback is that it doesn't recognize handwritten text and sometimes you may get the poor result when the input file contains text or background with color.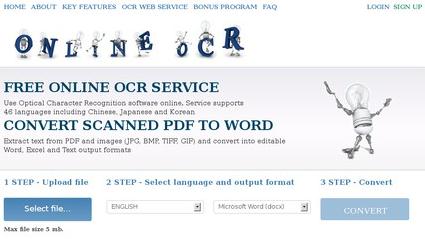 ---
Conclusion
As far as it goes, Free OCR to Word is a widely used, the fastest and fully featured OCR to Word program. It has very good accuracy, that's why it has been ranked slightly higher than other similar products. Because of its infinite combinations of the document types, accurate OCR engine and advanced settings, it might be the only one that performs better with your particular needs than other programs. For this reason, you should give it a try. You will notice that Free OCR to Word is one of the most powerful OCR software that requires much less effort to get started.
Please follow and like us: